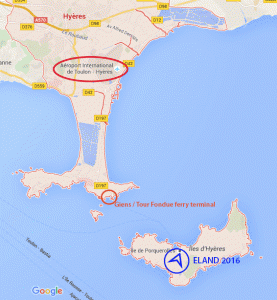 The conference will be held at the Centre IGESA, on the Island of Porquerolles (France). This is one of a three-island group directly to the South of Hyères, and South East of Marseille. The Centre IGESA is in the village of the island of Porquerolles, 5 min by foot from the beach and the harbour. It is located in a natural park, one of the last intact naturalistic area in the Mediterranean basin. It belongs to the armed forces of France as a recreation and meeting location.
The European Championship Soccer tournament (UEFA 2016) will be held across 10 French cities, for a month from June 10 to July 10. Paris, Marseille and Nice are one of the selected cities. Thus we highly recommend you to book your transportation as soon as possible to avoid an expensive flight ticket.
Special IGESA Boat shuttle – « La Valériane »
Two boat shuttles (a journey lasts approximately 30′) have been reserved for all attendees, as follows:
– Monday June 27 at 5:00 pm: departure from La Tour Fondue to the island.
– Sunday July 3 10:30am: departure from the island to la Tour Fondue.
For participants missing the above appointment, there is a regular line between la Tour Fondue and the island, see below.
By Air
The closest International Airports is the Toulon-Hyères Airport (with low-cost direct flights from other European cities such as London, Brussels, Paris, Lyon), 15 min taxi ride.
You can also fly to Marseille-Provence Airport (110km, 1h45 by car) or Nice Côte d'Azur International Airport (150km, 1h45 by car).
By Rail & Public Transport
The closest train station is Hyères main station (Gare SNCF d'Hyères)
From the train station, take the bus 67 to 'La Tour Fondue' – Ferry Terminal to Porquerolles.
Toulon train station is also close (30 min). From there you can take either bus 29 or 39 direction "Gare routiere de Hyères". Stop at "Hyères gare routiere" and from there take the bus 67 to 'La Tour Fondue'.
By Taxi
Taxi approximately prices to La Tour Fondue (Giens) – Ferry Terminal to Porquerolles:
From Toulon-Hyères airport     25 EUR          10 min
From Toulon  railway station    80 EUR         45 min
From Hyères railway station    35 EUR         15 min
Taxis Radio Hyérois Tel. +33 (0) 4 94 00 60 00
Radio-Taxi Toulon Tel. +33 (0) 4 94 93 51 51
Ferry
From the port of Giens – La Tour Fondue, several ferries a day sail to Porquerolles (20mn – about 20€ fare)
TLV-TVM
Tel. +33(0)4 94 58 21 81
By Car
To reach La Tour Fondue, (ferry terminal), first go to Hyères and then take the D97 till La Tour Fondue. A number of car parks are available at the port.
---